Effective Strategies for Making Money Online in ExpertOption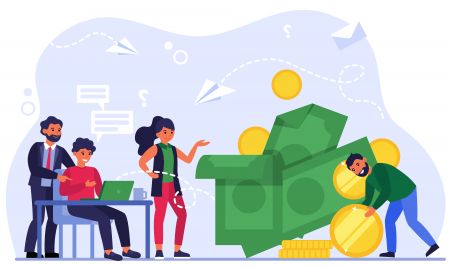 Are you an Options Trader wondering how to ace the markets in Expert Options?

You most probably have blown an account or two. No strategy seems to work for you to recover your capital and losses.

If that is the case, worry no more!!

Today I am going to take you through 8 tested and proven strategies to Make money in Expert Options.

Make sure you read through the whole post and miss no detail!
1. Demo account practice
Expert Option offers you a
$10,000 free Demo account.
The essence of a Demo account is to learn how to Trade Forex on the platform.
You can practice any trading tactics with a Demo account without fear because you do not stand to lose Real money.
You cannot go ahead testing every strategy you hear on your live account!! If you do, you risk losing your capital very easily.
Practice and try every strategy you learn first on your
Demo account
to see if it really works.
Why?
Because the Demo account makes you better in trading forex.
It does so by helping you sharpen and fine-tune your trading skills fearlessly.
Have you practiced enough on the Demo account? You can now go-ahead to trade on the
Live account to earn real profits.
Do this only when you feel ready to risk real money!!
2. Technical analysis strategy
Technical analysis aims at predicting price movements by referring to historical data, mainly Price and Volume. It guides traders to predict what is likely to happen given past information.
Different traders prefer different technical analysis strategies. Day traders may prefer simple trend lines and volume indicators. Swing traders, on the other hand, may prefer chart patterns and technical indicators.
Identify a technical analysis strategy that works best for you.
Technical analysis involves a wide range of strategies that employ various Indicators and Oscillators on the chart.
Some common technical analysis strategies you can consider applying in Expert Option include;
Moving average cross overs
This strategy involves setting up two different moving averages on the chart. For example, a Moving average of period 10 and another of period 20. If the short term moving average (10) crosses the long term moving average (20) from below upwards, then that is a Buy signal. If the short term moving average crosses the long term moving average from above downwards, then that is a Sell signal.
Bollinger bands strategy
These show a range within which the price is moving. They, therefore, can help you determine the direction of a trend, potential reversals, and volatility.
This will enable you to make better trading decisions as a trader. Basically, the price tends to return to the center of the bands. If the price sharply breaks the band, it should be expected to return to the range within the bands.
If the price breaks the bands upwards, then that is a Sell signal because it is expected to return downward!! The vice versa is true!
Identify different indicators and oscillators on the Expert Options Chart. Each, in combination with others, can form a profitable technical analysis strategy!!!



3. Fundamental analysis strategy
Fundamental analysis involves News Trading! Financial markets often react to News. Therefore, if the current News is strong, it is expected to cause a huge price movement.
This trading strategy may be quite risky because at times the News may fail to affect the markets. However, you can make huge profits if News does affect the markets in your favor!
To succeed in this strategy, know which News releases are expected and the Important data in them. Ensure you do not blow your account trading news. Be disciplined.
4. Trend trading strategy
A trend in forex means that the price of an asset moves towards a give direction over a period of time. It may be an Uptrend, a Downtrend, or a Sideways trend!
To identify trends in Expert Option, you need to draw trend lines using the Ray drawing tool available on the platform.
Identify an Uptrend where the subsequent bottoms of a price tend to be higher than the previous ones. Draw a line connecting those bottoms together. That denotes an Upward trend and thus a Buy signal!!
Identify a Downtrend where the successive tops tend to be lower than the previous ones. Draw a line connecting those tops. The line gives you a Downward trend and thus a Sell signal.
Avoid sideways trends at all costs. They have no tradable signals!!



5. Martingale trading strategy
Martingale strategy involves doubling your trade size every time you lose.
The principle behind it is simple! If you win a doubled trade, you are most likely to recover your capital, incurred losses, and make some profits on top.
For example, you place a trade using $ 10 and lose. You double the next trade size to $20 and still lose.
You do not give up but double the trade size to $40. This time you win!! If the asset has 85% returns, you will make $74!! That means that you have not only recovered your capital but also made a $4 profit!!



6. Support and Resistance trading strategy
Support and Resistance are certain predetermined levels of the price of an asset at which the price tends to stop and reverse. These levels tend not to be broken through by the price either going Upwards or downwards.
Use Horizontal lines. Draw a Support line connecting the most prominent lows and a Resistance line connecting the most prominent highs.
If the Price reaches the Resistance level rising, that is a Sell signal. The price is bound to fall because the resistance level is the price where sellers tend to enter the market!
If the Price reaches the Support level falling, then that is a Buy signal. The price is bound to rise because the support level is the price where buyers tend to enter the market!



7. Avoid 60-second trading
60-second trading is discouraged in Expert Option. The major reason is due to the fact that only small price fluctuations occur in 1 minute.
This makes it difficult to predict where the price will be next without guessing. Guessing is gambling, not trading!! You can begin trading from 5 minutes onwards because that way, you are able to follow trends and predict more accurately!!



8. Choose the best trading time
Choose if you want to trade when markets are highly volatile or when they are only averagely volatile.
If you choose to trade in high volatility, enter the markets in the first hour of each trading session. Remember to trade the right currency for each session you enter. Also, remember that the most volatile trading time interval is the Afternoon hours to Early evening (12.00 GMT to 19.00 GMT). The other trading time intervals are suitable for traders who prefer trading in average volatility.  
Conclusion
You now know the 8 best strategies to make money on Expert Option.
Apply then today and Win Big!!!
You can always create your own trading strategies in Expert Option based on this guide!
Always ensure you trade when the prices are more predictable.
Market conditions are always changing and may not be as perfect as we would wish!!