How to Make Sustainable Profits from ExpertOption
Hello, readers of ExpertOption. During the past time, our blog has brought you a lot of knowledge of trading strategies in ExpertOption and experience so that you can trade and make money by yourself in ExpertOption. However, to be able to trade successfully and stably in ExpertOption, you need more than that. You need a complete trading system of your own. Understand and master it. Test it carefully before finally trading with a real account.

Today, I will show you how to build such a system. A complete trading system in ExpertOption will help you trade better and be more successful. From there, the goal of making sustainable money in ExpertOption will soon become real. Follow the article to learn how to build an effective trading system for yourself.
What do you need to be able to earn sustainable money in ExpertOption?
The answer is a complete trading system which is just for you.
A trading system in ExpertOption includes the following components:
     Trading strategy – a way for you to find entry points.
     Capital management method.
     Trading principles and emotional management.
Within the scope of today's article, I will only talk about trading strategies. That means I will guide you to develop an effective entry formula in ExpertOption. Regarding the other two components, I will show them in the next article.



Develop a trading strategy to make money in ExpertOption
Think of it like this: It will all start with the simplest and most basic things. Building a trading strategy is also the same. What I want to talk about here are indicators. Which indicators are you most confident in using in trading? Do you fully understand the signals that indicators offer? If any indicator satisfies these things, consider putting it in your strategy.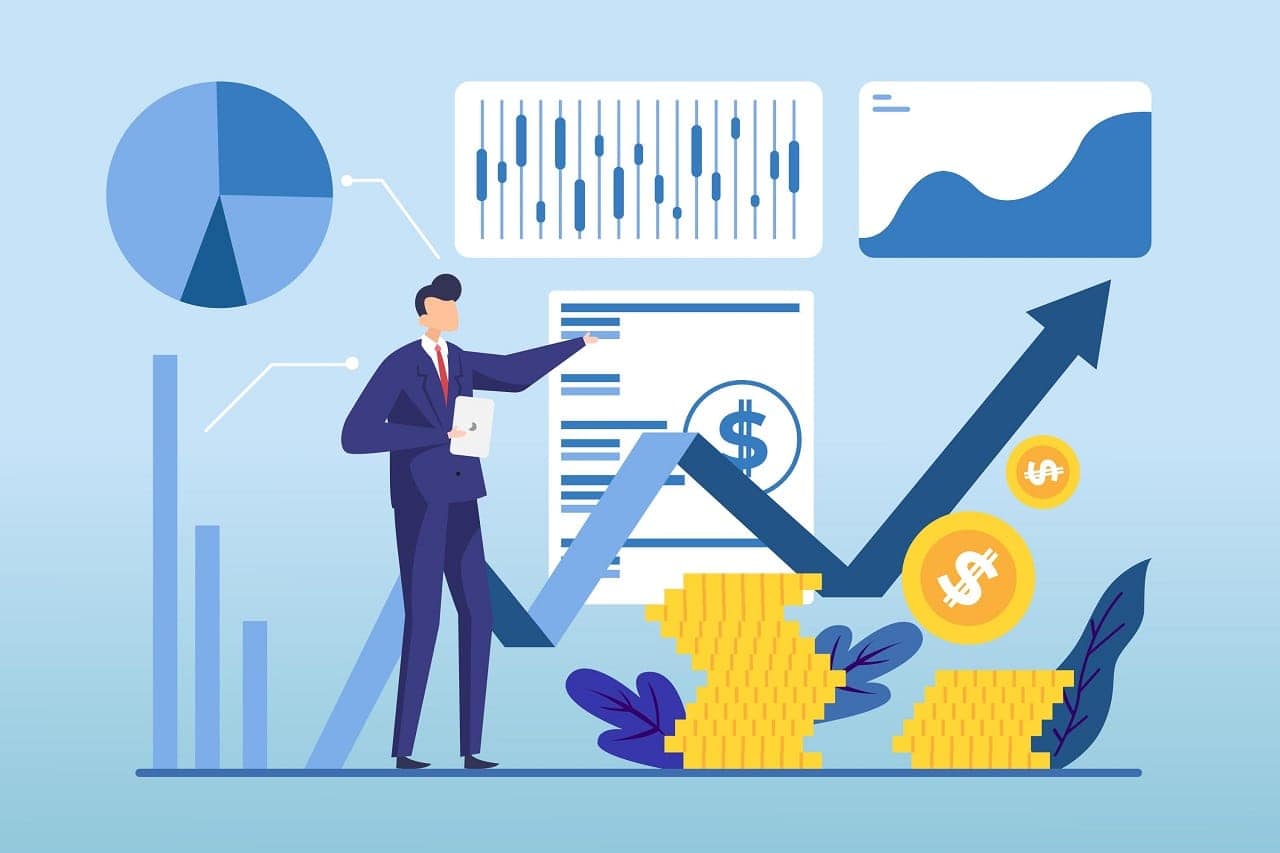 I will give you an example for better understanding. My strategy is based on 2 indicators which are EMA 30 and Stochastic. In which, EMA 30 will be the trend indicator while the Stochastic will give a reversal signal. Why are EMA 30 and Stochastic? It is simply because I understand these two indicators very well. When using it, we feel most confident.
Now find yourself an indicator. All indicators in ExpertOption are divided into 2 types:
Type 1: Trend indicators include RSI, MACD, SMA, EMA, etc.
Type 2: Reversal indicators include Bollinger Bands, Stochastic, etc.
There are many indicators for you to choose from. However, remember to choose the indicator that you like and understand best.



Select indicators to determine the market trend
In my ExpertOption trading strategy, I use EMA 30 to find market trends. Let's see how I use EMA 30. Looking at the image below, you will see. When the market is sideways, the price will continuously intersect with EMA 30. Especially, when going away from this EMA, the price tends to be "sucked back" by EMA 30. So I will focus on these "sucked-back" points to find the entry point.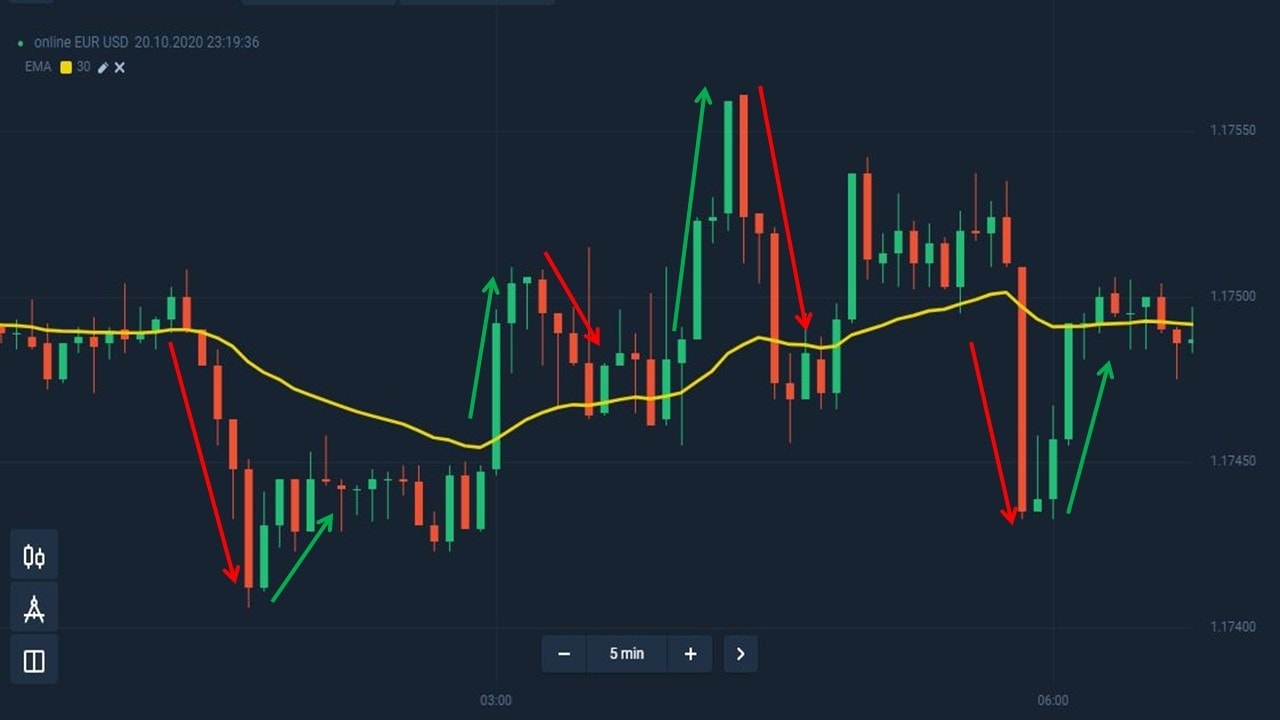 Thus, in the trading strategy that I am developing, EMA 30 will act in determining the sideways trend. I will only trade when the price continuously intersects EMA 30. In uptrends and downtrends, I won't do anything.



Look for entry points and filter false signals from the market
Now I have a trend for trading. When the market is sideways, reversal trading is most effective. However, knowing for sure when the price will reverse is a decisive question. At this point, we should use other tools to continue.
Stochastic is a very good indicator for this work. This is a momentum indicator so it responds very well to price. In all, this is the indicator with the least lag.
Specifically when:
Prices reverse from down to up: The %K (green) line will cross the %D (red) line from below and both lines will point up.
Prices reverse from up to down: The %K (green) line will cross the %D (red) line from the above and both lines will point down.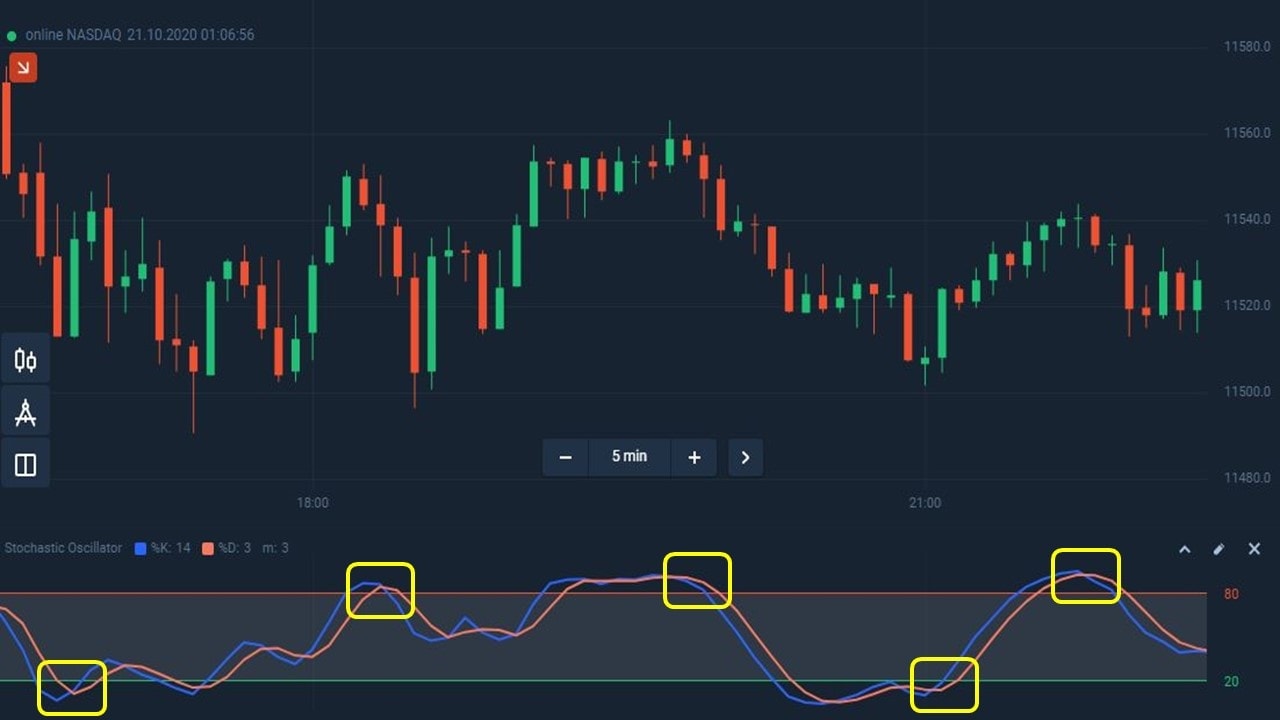 So now I have 2 factors to consider opening a Fixed Time order in ExpertOption. However, no matter how good the indicator is, there is always a certain lag. Stochastic is somewhat unable to completely resolve this. Fortunately, apart from these indicators, I have found the perfect piece of the puzzle for this strategy.



The last piece of the puzzle – Price signal
The great thing about Japanese candlesticks in trading is the analysis of candles. You will know how the market is going. In many of my articles, I have mentioned a lot about these special candlesticks. They are Pin Bar, Doji, Spinning Top, Shooting Star, and Hammer. All these candles show market indecision. And when the price creates such candlesticks at the levels (resistance/support), the price is very likely to reverse.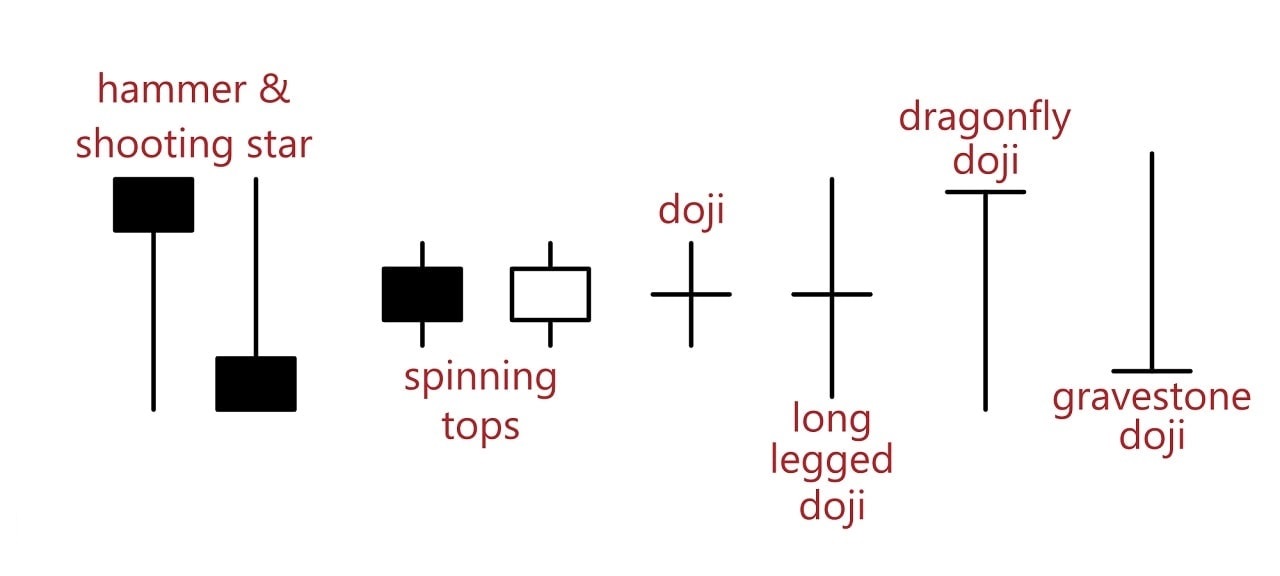 "But how do we know for sure that the price will reverse right there?" This looks like the question that will come to your mind. And I will answer it immediately for you. At this point, you will need a "confirmation" candlestick. What is this candlestick? It is a candle showing a strong price reversal. It completely eliminates the "indecision" of the market in the previous special candlestick.
Make money in ExpertOption using the Stochastic indicator combined with EMA 30
In short, I have the formula to open Fixed Time order in ExpertOption as follows:
Conditions:
A 5-minute Japanese candlestick chart. EMA 30 continuously crossing candlesticks and the Stochastic indicator. Open orders with an expiration time of 5 minutes or above.
+
Open an UP order
when a pair of candles including 1 special candle and 1 green "confirmation" candle appears at the support zone. At the same time, the Stochastic indicator shows a bullish reversal signal (the %K line crosses the %D line from below).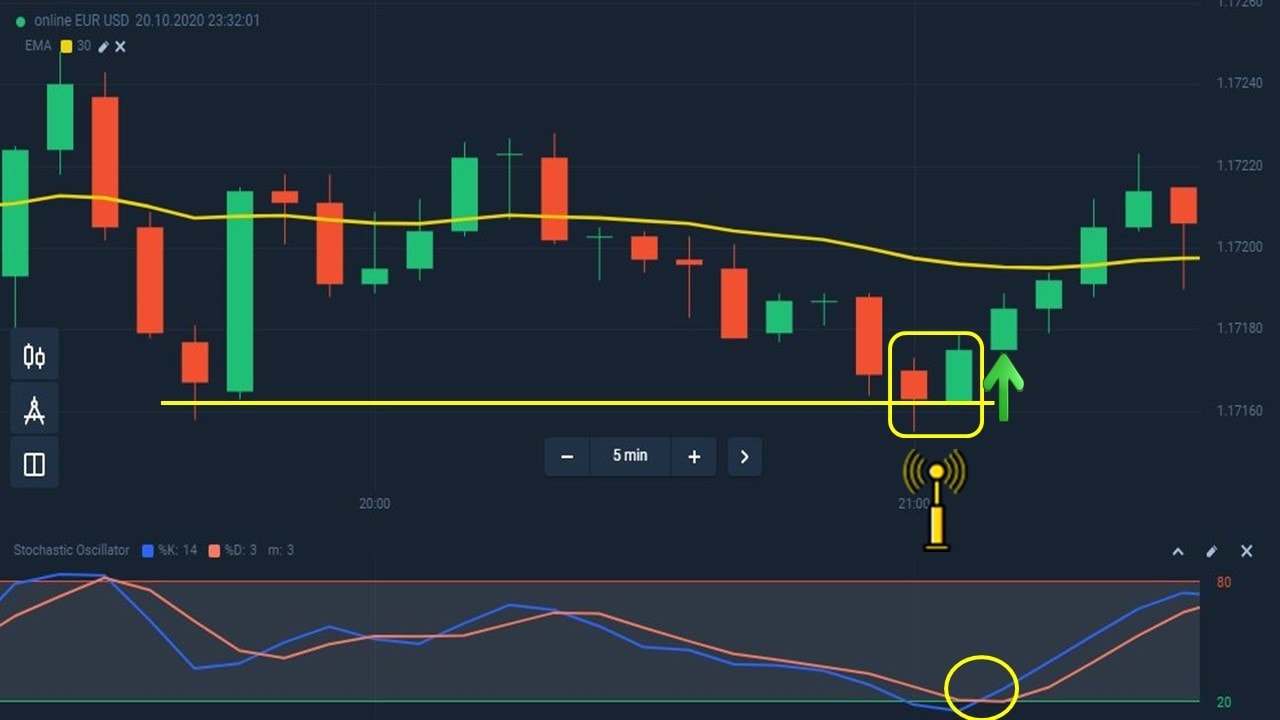 +
Open a DOWN order
when a pair of candles including 1 special candle and 1 green "confirmation" candle appears at the resistance zone. At the same time, the Stochastic indicator shows a bearish reversal signal (the %K line crosses the %D line from above).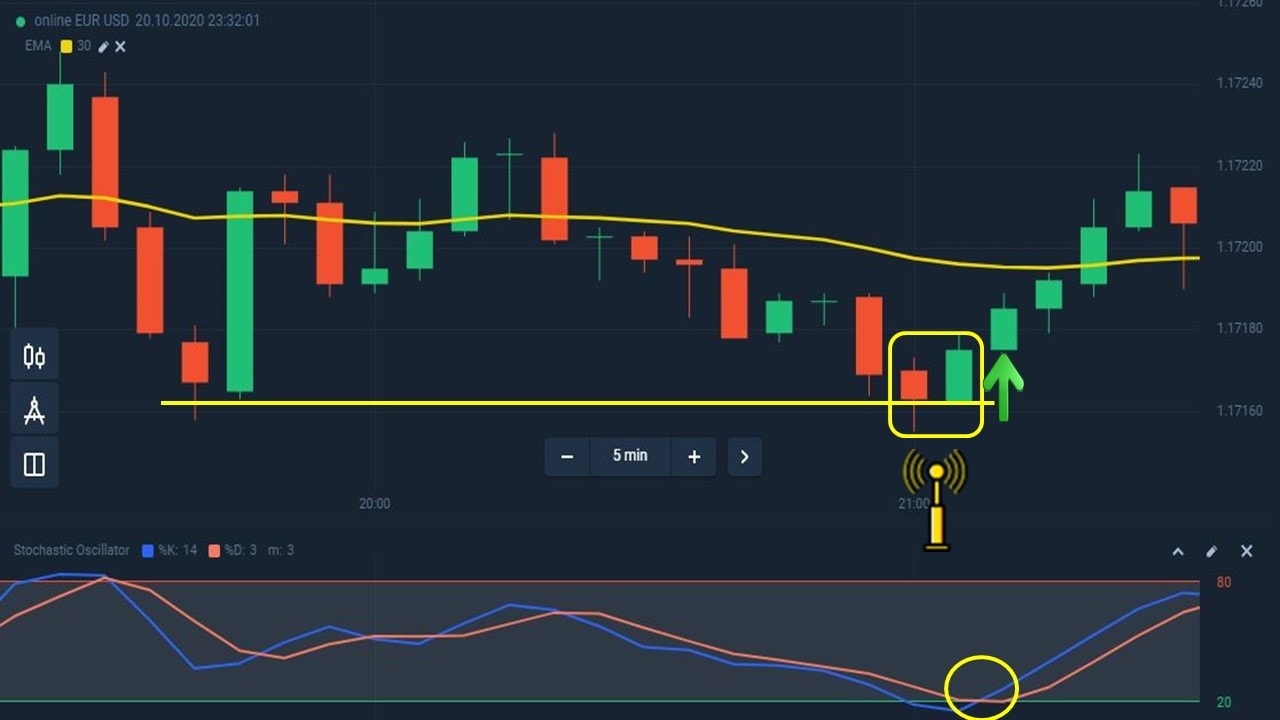 Therefore, the ExpertOption trading strategy that I have just developed will include 4 components:
+ EMA 30 to identify the sideways trend of the market.

+ The Stochastic indicator to search for price reversal.

+ Resistance/Support zones to increase the accuracy of your trade.

+ Price signals from analyzing special candles to confirm opening orders.
Verify the strategy on a Demo account
After holding a trading formula in your hand, what you need to do next is to verify it carefully before using it on a real account.
This testing step is very important for your system. Because when practicing on a Demo account, you will know what is lacking in that strategy. You will know what you need to note down when opening orders. When you test your strategy with different capital management methods, you will get a lot of things during this stage. The better you do at this stage, the better your strategy will be. Accordingly, making money in ExpertOption also becomes easier.



Some successful orders on a Real account in ExpertOption
Here are some of the trading orders on my Real account. Of course, to achieve these winning orders, I had to test very carefully on the Demo account.
1st order:
The price created a Shooting Star candlestick at the resistance zone, signaling a price reversal. I waited for a red candlestick to "confirm" this reversal. Right after that, I opened a DOWN order with an expiration time of 5 minutes. I won.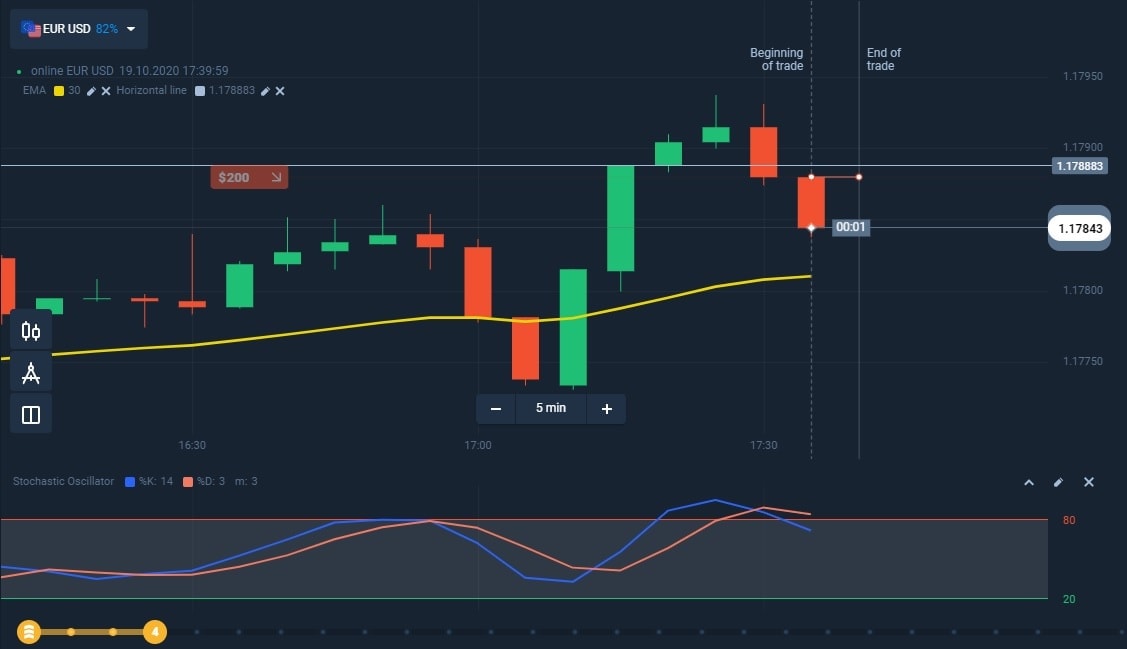 2nd order: 
The AUD/USD asset pair created a Spinning Top candlestick at the support zone. The price then rebounded to create a green candlestick, "confirming" that the price would rise. Opened an UP order (to bet on the next green candlestick). I won.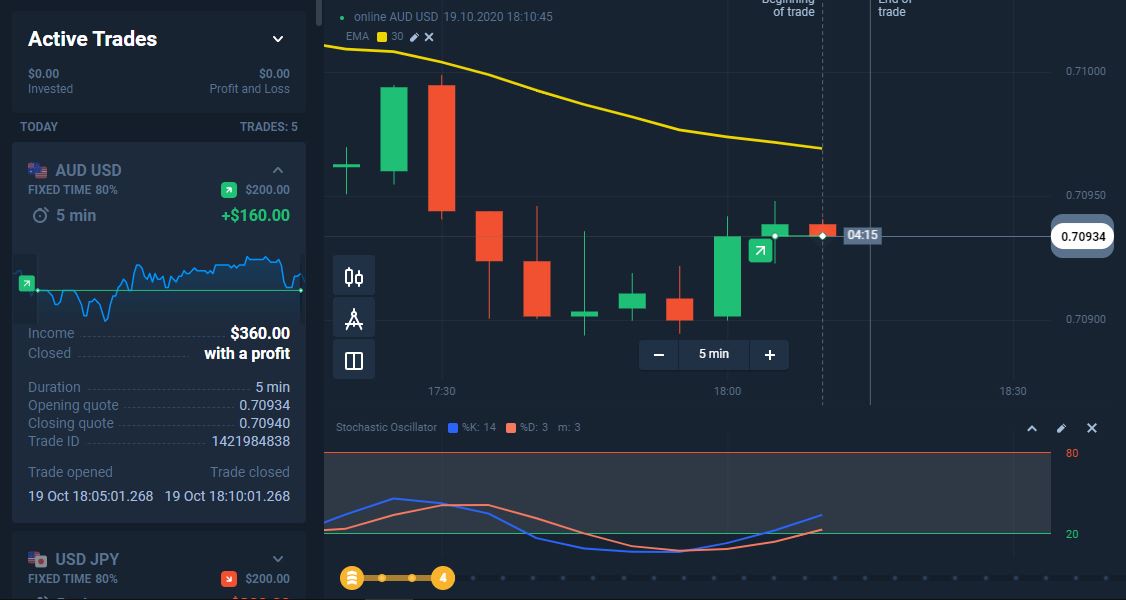 In the next article, I will guide you on how to develop capital management methods as well as emotional management methods. Doing well at this stage will bring you closer to your goal of making sustainable money in ExpertOption. Maintain your belief in trading. I and my blog will always be by your side for help. Goodbye and see you again.